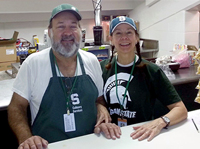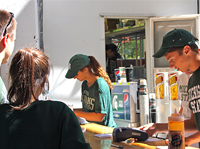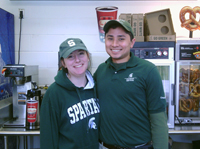 MSU Concessions is always looking for enthusiastic and motivated non-profit groups to join them and be part of the MSU community when they partner with MSU Concessions. They will provide your organization with the following:
Exciting events that entice your members to volunteer
All necessary food and supplies to sell
Training in operations, safety and sanitation
This provides opportunity for your organization to earn money at a variety of sports and entertainment events. Many current non-profit organizations have been in a successful partnership with MSU Concessions for more than 35 years.
Eligibility: MSU Concessions evaluates applications based on motivation, enthusiasm and commitment of your organization. The goals of your organization must be well defined and of a long-term nature. The service group must have strong and commited leadership of two to four managers. Your organization must have a non-profit tax identification number in order to work at any of our venues which include: Spartan Stadium, Munn Ice Arena, Breslin Student Events Center, the Ag Pavilion and Jenison Fieldhouse. All volunteers must be at least 16 years old and supervised by adults.
Benefits: By joining MSU Concessions, your organization will have the following benefits:
Fun events to draw your membership to work
Consistent fundraising opportunities each year with more than 430 events annually
Earn 10-15% commission on gross sales with a base guarantee for events worked
Potential long-term relationship with a highly visible department of the MSU community
Online reporting of events worked to view your group results in a timely manner
Free pretzel or hot dog at each event per volunteer
Free parking for groups (carpooling is encouraged)
Fill out an application online, and our Service Group Coordinator will be in touch to follow up and answer your questions.