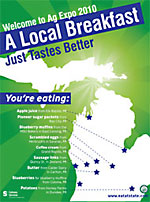 The sports and entertainment area consists of events at Breslin Student Events Center (Men's & Women's Basketball, Concerts), Spartan Stadium (Football), Munn Ice Arena (Hockey, Ice Shows) and other related venues. The Agricultural Events group serves the annual Ag Expo and the functions of "The Pavilion," a multi-purpose facility that hosts a variety of horse and livestock shows, 4-H events and trade shows. Kellogg Catering provides select dining service for club and suite holders at the major sports venues. For more information about catering, visit catering.msu.edu.
Community Partnership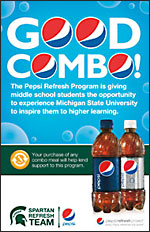 MSU Concessions relies on many partnerships that extend beyond the campus into the greater Lansing and Mid-Michigan communities. These partnerships are developed with non-profit organizations such as churches, civic organizations, high school booster groups, etc., that staff our major sport and entertainment venues for a commission payment. The Concessions department annually contributes over $300,000 to these organizations, thus enriching the specific organization and the general community as well.
Sustainability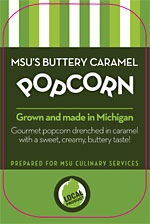 MSU Concessions is committed to being sustainable and providing resources to our guests to educate them to practice sustainability. Some of the menu items are sourced locally. For example, caramel corn is grown, made and packaged in Michigan and Agricultural Expo featured breakfast menu items that were provided by local Michigan vendors. They also partner with Pepsi in their Pepsi Refresh Program where middle school students the opportunity to experience MSU to inspire them to higher learning. In 2010, the fountain beverage cold cups were made of recyclable material and guests were encouraged to use them as souvenirs after use. Concessions also partners with the Be Spartan Green program on campus.