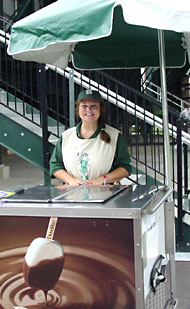 MSU Concessions, a unit of MSU Culinary Services, has been providing an excellent variety of traditional and modern-day concession fare on campus since 1937. Annually, nearly one million guests visit Michigan State University and experience MSU Concessions food service through sports, entertainment and agricultural events.
The mission of the MSU Concessions Department is to provide high-quality food services, emblematic clothing and souvenirs to guests and spectators at a wide variety of on-campus events, including athletic events, alumni functions, agricultural shows, concerts and other special events.
Have fun while earning extra money for your nonprofit!
MSU Concessions is looking to partner with enthusiastic and motivated nonprofits to help run concessions on campus. Be a part of exciting events that will entice your members to volunteer and earn 10-15% commission on net sales for your group. In addition, free parking and other benefits are available to your members during the events.
To learn more and apply, visit concessions.rhs.msu.edu/service/eventapp or call the volunteer coordinator at 517-353-2005.