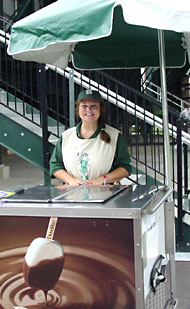 MSU Concessions, a unit of MSU Culinary Services, has been providing an excellent variety of traditional and modern-day concession fare on campus since 1937. Annually, nearly one million guests visit Michigan State University and experience MSU Concessions food service through sports, entertainment and agricultural events.
The mission of the MSU Concessions Department is to provide high-quality food services, emblematic clothing and souvenirs to guests and spectators at a wide variety of on-campus events, including athletic events, alumni functions, agricultural shows, concerts and other special events. 
For more information, please contact Alex Terranova, Concessions Manager at 517-353-2005.